To the spirits of the Stars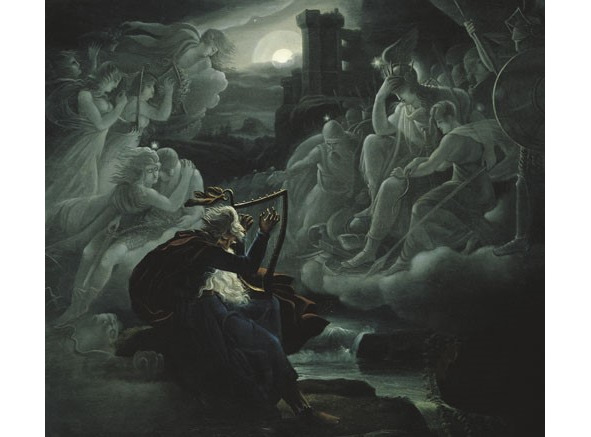 "Witless are you mortals and dull to foresee your lot, whether of good or evil, that comes upon you. For now in your heedlessness you have wrought folly past healing; for — be witness the oath of the gods, the relentless water of Styx — [260] Hymn II to Demeter
Gather Light Scatter Darkness
She shone with violent colours of the universe. Cosmic passion torn tonalities of her mortality away. Amongst the holy symbols and seals, void geometry of the abyss and aeons designed her new cloth of a priestess, who became consecrated as a servant of the world and a mystical queen. Brilliantly fading away in ecstasy and laughter all forms disappeared. Mirages of greatness left behind to leave traces for others to return to the starry heavens. When she left there was a droplet of a lunar tear beautifying Earth for a suspended moment with a humble, yet mighty light extended throughout the land and a silent airy gasp, too insignificant to notice in the ocean of boundless compassion. Her wings folded and words no more uttered with her soul joined the others with a single idea. Fates do entwine again — so they say — once destinies and pure honest wishes are set into motion in complete, sincere exhaustion. When there is nothing more to say, everything is known as if universal space would be our breath.  Our lives combined required only a despaired moment. The last thing I could do for her, is to send her back to our common stellar mother, the essence of our dancing spirits embraced in an alchemy surpassing all terrestrial affairs. Or perhaps I was the cause of her disease and she was salvaged, before I wished to save her? Before the storm begun, before the storm was over. Within our mother's robes the profundity of spirits of the mighty stars, the dragon bodies of infinite Suns, recalling us into her embrace. Monoliths shining from afar, tokens of infinite splendour, lanterns for the solitary hangman to long for. Egyptians wrote letters to the stars written with the life of Kheper - the toiling scarab, a sincere heart. Seek, seek and hide. How many times will I recognize her, how many times will I miss her signs? Or are we mere illusions chasing each other, to greet only once, part and perish, as the seeking defies the finding, return, liberative dissolution is the only answer.
"Find me". It was the most important phrase in a little gift — a hand-crafted illustrated small book that I received from her. That was back then, as if a forethought of a warning. I said that we met only once, as she vaguely looked at me, I wanted to make sure she is aware. Out of years that I conjured, not much was given to us. Looking at her, next to the sea at night, I was observing as her sight was penetrating the waves, the horizon. I knew they were insightfully reaching deeper, as the moon reflected hop-skipped from wave to wave. I stood. I observed the oneiric view, the sounds of gale and sea was holy, throwing her red Neptunian hair into the air. Guarding her tomb, attempting to revive her star in her, between a forgetful smile, and terrifying awareness that I lost her in front of my eyes, fading away, given over to malefics that she could not defeat, and neither could I, she slipped away in my fights and humiliations, my rants and rages. In Cytherea, we abandon the temples. Stranded in this theatre animatronique, only living ideas remain free. Sometimes writing our necrologies with blood, essence, fierce resilience, passion, an instance of a life as a human being. Verily, what I wrote to convey are either testimonies or mere apologetics veiled as a teaching.
"We do not understand except by observing phantasies." — Giordano Bruno.
"3:23: The Master, speaking with the Grand Music Master of Lu, said, Music can be understood in this way. The players first in unison, then freely harmonizing, playing separately or carrying on from one another, and thus the piece is completed."
Thus born of Earth, another instance of a human life, we live our phantasies and imaginations, through honest and reverberant intellectuations, deep feeling, transparency with the world that is seen akin to naivety, we reclaim something resembling a fortified inner truth — defiantly standing against oblivion and forgetfulness. By the law of self-reflection below, we look in-between the hypostatic mirrors above, we ponder upon this world and ourselves, climbing on the middle essence upwards through proportion, observation, recognition to find tokens, signs and notions of the Divine and thus build, furnish, and construct a temple within, ultimately to exit the spectacle of illusions, the greater hall of mirrors, propagating vertically and horizontally, shedding veils until the essence returns to infinity.
Resurgent atavisms are tokens of true archetypes, in language of symbol what is not superficial is always essential. They are all antedating human existence, deep living ideas that exist a priori, and are merely captured, touched upon by a measure of human. They are the substance of forces that bind our common fate unveiled by pondering, reflection, living out, feeling and experiencing. Sometimes it is done in a greater degree than destinies may pardon, strangled by fates that do not allow such transgressions, yet force them down upon us so that we may learn. When does a child of nature become a fool, a fool a magician, a magician a hangman, that meets the roots in the stars, and hangman a hermit, and as a hermit when does he or she become a star? When do the lovers become as one, bound in harmony to be united in liberation?
"In order to grasp the power of the images, the interpreter must in some way participate in the beliefs of those who are frightened and fascinated by them"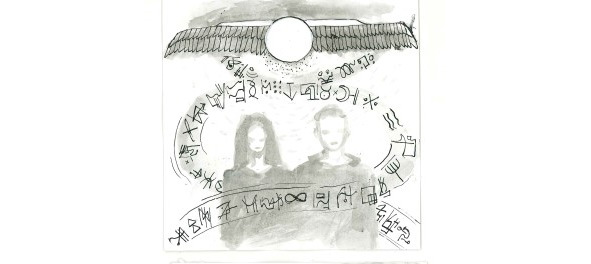 How would hermetica develop in a binary star system with three moons circulating an inhabited planet? Would beings inhabiting such a world capture different configurations of forces, powers and their resolutions? Perhaps according to the nature of life that would develop in such an environment it would have its own perspective, senses of contact, natures, forms. Apophatic between its substance and the deep world, self-conscious or self-evident, concordant with forces and powers of its total being in environment, and deep grammar of cosmos. Obvious through itself in contact with the world through knowing. Perhaps as lost as we are in our being? Perhaps as natural as they are, according to their inclination? If a human being would be placed in such a system, torn away from this world, would it react according to the nature of such a weird star system? Would it be astrally influenced by the three moons, two stars, and all the planets in such a stellar environment, how would it react to it, how would it reply?
We are all submersed in an eerie world, that is interconnected to a greater or lesser extent and understood by astronomical axioms, yet unknowable through multifarious hidden transcendent factors and variables. Planets do have their natures, so do stars, hidden worlds full of weird life. Noteworthy, too often do we limit the term "life" to something organic, living in biological sense visible, castrating the invisible force, the idea, the omnipresent being. Between these forms of life, there are all worlds that we may rarely describe by our divisions and understandings and oft do we relegate them to ancient phantasies and bestiaries. Either we take all of them for phantasies and the mythomania of an overexcited mind, or we flirt with the idea that once these worlds were closer, more apparent, visible to the human participant. Not relegated to the unconscious, but interfaced in interaction. Not objective, yet not dependent on the individual's mind. Whether taken as real or as a dream, inasmuch as we consider ouselves real or a part of a dream, both or detached from both, dreaming and observing the dream. Forgetting we are dreaming and grasping the spectacle for reality, or in dream observing aware as if real. Lucid dreaming while being awake is a sincere stance, in dream we re-virtualize the sleep with waking, yet act through the same fabric both lucidly dreaming awake, and dreaming lucidly or incestously asleep . Memory and history are not the same, that what is now was not always so. Any worthy thing taken to a metaphysical level by an act of hypostasis becomes a wonder, horror and awe of unimaginable extent, depending on the perception of the beholder's perspective and his ability to surpass the comfortable knowns. Anything reified yet belonging to the sanctum sphere, thus sacralized becomes a living token, like the Temple of the Spheres, a Ziggurat in Ancient Borsippa, later called the Tower of Babel, or the City of Ecbatana built by king Dioces of Media. Their mighty walls based on planetary spheres of Heavens. When reification of the Divine becomes to materialistic, to naively realistic it descends and forgets itself. It leads to procreation of the human mind with itself within conceptual swamp through separation of analogy, disarray of referential proportion, and moves into horizontal mirroring that separates itself further not even from transcendent factors, but from its own content - it leads to infinite diversity that is superficial, because of flatness of horizontal propagation. The magical transcendent hybrid that is a perpetuum mobile becomes the hubris of the man-made hybrids that need to continuously animated and stop working without the animators. It cuts away human participation in the stream of the living world and the world soul.
Emperor Wu of Chan (156 BME — 87 BME) posed a fundamental question: What is the relation of heavens to Earth, so that a human being may find himself in relation to Cosmos and the Heavens among the world of nature. Inviting the best of minds of his time to participate in measuring proportions, to exchange observations, to share insights, to let thoughts soar towards Heavens in great profundity foundations were laid once again. Thus what was arranged again — not on separate and superficial things, but deep understandings harnessed from world as it is, the times, changes, place of man and woman in the world. What thus administered the movements of starry heavens, how in a symbolic way interpret observations of astronomers, philosophers and Wu (magicians, shamans), what are the workings of nature, and how in natural philosophy elevate it to the Numinous? And later — how to relate all this to the world of human affairs at the very end for the purpose of guidance? We may near the omitted, unknown, ineffable deep laws of physical objective universe that are discovered to a possible extent. Afterwards, we proceed with metaphysical measurements and focused understandings, communicated in human language of symbols that laid groundwork for all advanced civilizations at their onset. It is unquestionable that astronomy was the most important mother to any form of philosophy.
The interpretation of these laws, captured according to possibility of fragmented or unified, topographically unequal perceptions, knowledge, experience, skill, socio-historical settings, depended on history of ideas, inventions, and history of perception itself was expressed in various ways. Different peoples in diverse cultures, ethnic groups, tribes, civilizations were relating their wholeness to the world by diverse measuring rods. Their mystical, affective and intellectual configurations towards the perceived world shifted in time. It depended on what people in these social formations understood and their traditions. Supported by signs and concepts that were possible to think, alterations that were allowed by taboo. What was considered sacred and profane, clean and unclean. These clusters of common perceptions constituted threads of kaleidoscopic ideas and kaleidoscopic phenotypes of being. These were views running in the mental, feeling and spiritual bloodstream through group and individual vistas and breakthroughs, pioneers, performers and participants. History perceived backwards from the present time is re-interpreted through cultural concatenations of scientific, social, political and religious sets that are currently established. It is not considering that historical people were perceiving inward territories and exoteric worlds differently and that some did not even make a difference.
Variations throughout ages in relation to patterns, forces and worlds, visible and invisible, were static, dynamic, chaotic, but for most of the time - ordered. Attempts to create human-made laws, foundations on planet Earth, structures reflecting these in a world of nature is a laborious task. The foundations that were long-lasting were striving to be approximate, yet they were still prone to decay, degeneration, corruption, unless renewed and reformed. Such are the fates of all civilizations, buried long under the desert sands, that people thriving around their sacred and profane - may us respect their dust and breaths – long dispersed on the winds.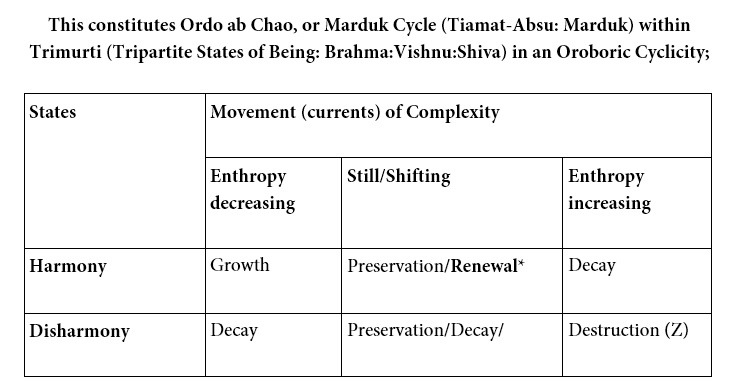 Mnemosyne
"Those who built in granite and constructed [halls] in goodly pyramids with fine work, when the builders became gods their stelae were destroyed, like the weary ones who died on the riverbank through lack of a survivor, the flood having taken its toll and the sun likewise, to whom talk the fishes of the banks of the water"
"You will find in the halls of Hades a spring on the left, and standing by it, a glowing white cypress tree; Do not approach this spring at all. You will find the other, from the lake of Memory, refreshing water flowing forth. But guardians are nearby. Say: "I am the child of Earth and starry Heaven; But my race is heavenly; and this you know yourselves. But I am parched with thirst and I perish; but give me quickly refreshing water flowing forth from the lake of Memory."
This memory is not a memory of our Earthly lives, according to the initiates of Eleusis, but that of all memory that we were deprived of in Earthly existence. For of what use is the memory of our small lives that we have led, and our stories as a droplet on the seas of life and death? Yet, it is lack of oblivion that was considered Aletheia both in life and death, a trancendent memory of everything, of the roots, fates, destinies.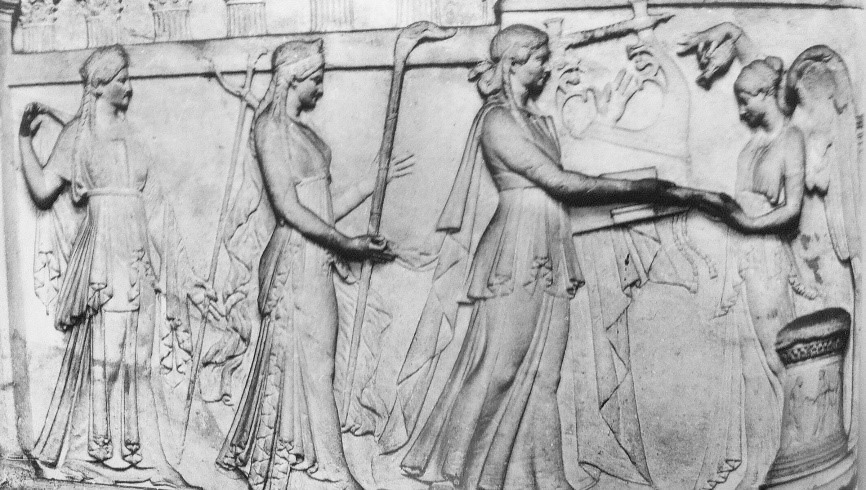 Divinities may be as they are, is; in human eyes it may be an ever-moving whirlwind of detaches shapes [masks] detaches itself from totality, as Democritus would put it. Captured for an instance in human impression with a suspended breath, silenced with a divine awe flowing brightly through us. Never violent, but with a splendid illuminating force that we may relate to as something beautiful, pure and high. Temporarily personified, for an instance — as if walking with a friend that emanates through our being that inspires through Brilliance, Intellect and Feeling, with diverse characters and natures, unique yet whole and harmonious. Ancient wings unfold with splendid force, eight-armed deities conquer all ignorance in an instance with a subtle thought, we are inspired because we want to, because we are free and recognize ourselves in this freedom. We commit because we walk through a desert that we animate with our breaths. In the past philosophers of neoplatonic school perceived it as Providence, major civilizations relate to it as Solar in origin, uniting all the other Deities under the sun, under the Starry Heavens. Thus the first Mithraic Axiom held: Dei Sol Invictii, Sun is Deity Unconquered: they were united in superiority of the Sun that protected guarded Numinous gateways and worlds of infinity. Beautiful ways of understanding hierarchies, or mentations of the invisible and the Divine were portrayed — for all theology and philosophy as Iamblich honestly wrote was [and is] a human endeavour. There was never a revelation conveyed — that does not deny metaphysics, but reinforces seeing in different ways. In Neoplatonism to participate in the impressionable world was an aesthetic, classical simplification, closed perfectly in rite, yet elegant in conveying what was most meaningful and essential. Thus the fine Intellect of Sosipatra, most likely the most superb of Neoplatonics, educated in Egyptian, Eleusinian and Chaldean mysteries must have been forged by the Sun, the moon and planets, the seventh-fold conqueress, Isidiac, truly. Iamblich, re-iterating on the Elder Races in De Mysteriis and developing a subtle philosophy, Hypatia the Alexandrian philosopher-preacher excelling in sciences and astronomy must have related to something — not in vain. Just like Proclus and classification of mortals, deified mortals, daimons, heroes, angels, demi-gods, and High Deities must have some intent in understanding the world. Whether noble Drakons and ancient Serpent avatars that sent a friend to humanity and the great healer Aesculap with his daughter Hygieia. Whether Boddhisatva Naga Kings of the East; they all understood this thriving world in one manner or another — as long as it was conducive to truth and liberated– it was embracing the truth.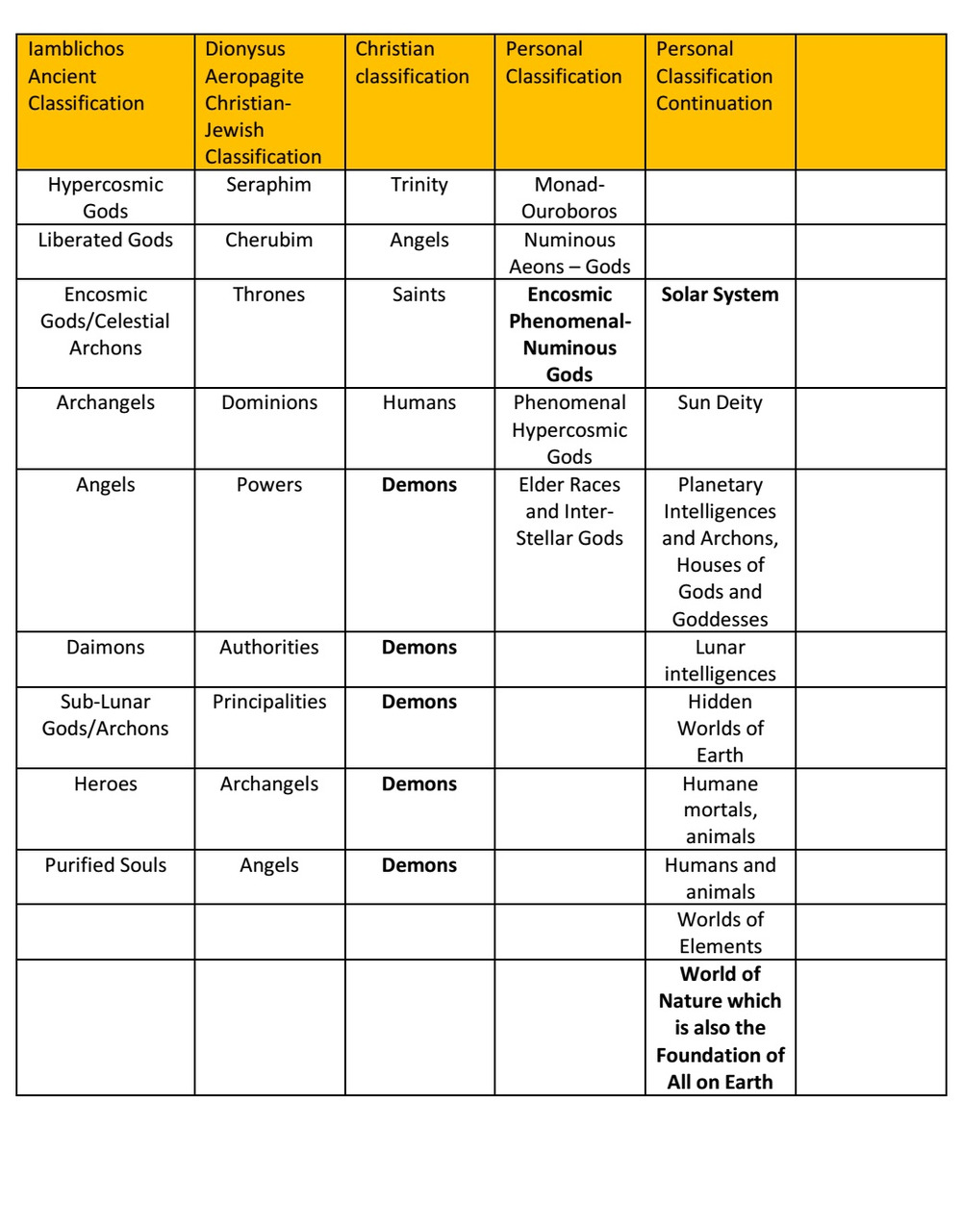 Not desiring to leave an impression of being a chaotic syncretic, it is a notion of understanding that binds the mystagogic narrations that measure by and by a complex and diverse spiritual world and forges greater insight. It procures ease at moving and discovering, gathering new gnoses into a whole. In ancient times it was common to travel from master to master, from mistress to mistress, from temple to temple — to become initiated into mysteries as today we study at universities. People of the day were mobile, not static. Much too often we are static in our Western-centric perceptions today, our minds move within its confines. Confucius wrote: "These who all well versed in the old, but penetrate and understand the modern times are good teachers". Timeless mysteries never lost their value, and modern times need people who understand them like never before. They are not an anachronistic triviality, they are living, yet forgotten. Ralph Waldo Emerson rightly stated:
There is no chance, and no anarchy, in the universe. All is system and gradation. Every god is there sitting in his sphere. The young mortal enters the hall of the firmament: there he is alone with them alone, they pouring on him benedictions and gifts, and beckoning him up to their thrones. On the instant, and incessantly, fall snow-storms of illusions. He fancies himself in a vast crowd which sways this way and that, and whose movement and doings he must obey: he fancies himself poor, orphaned, insignificant. The mad crowd drives hither and thither, now furiously commanding this thing to be done, now that. What is he that he should resist their will, and think or act for himself Every moment, new changes, and new showers of deceptions, to baffle and distract him. And when, by and by, for an instant, the air clears, and the cloud lifts a little, there are the gods still sitting around him on their thrones, — they alone with him alone.
— Ralph Waldo Emerson, The Conduct of Life